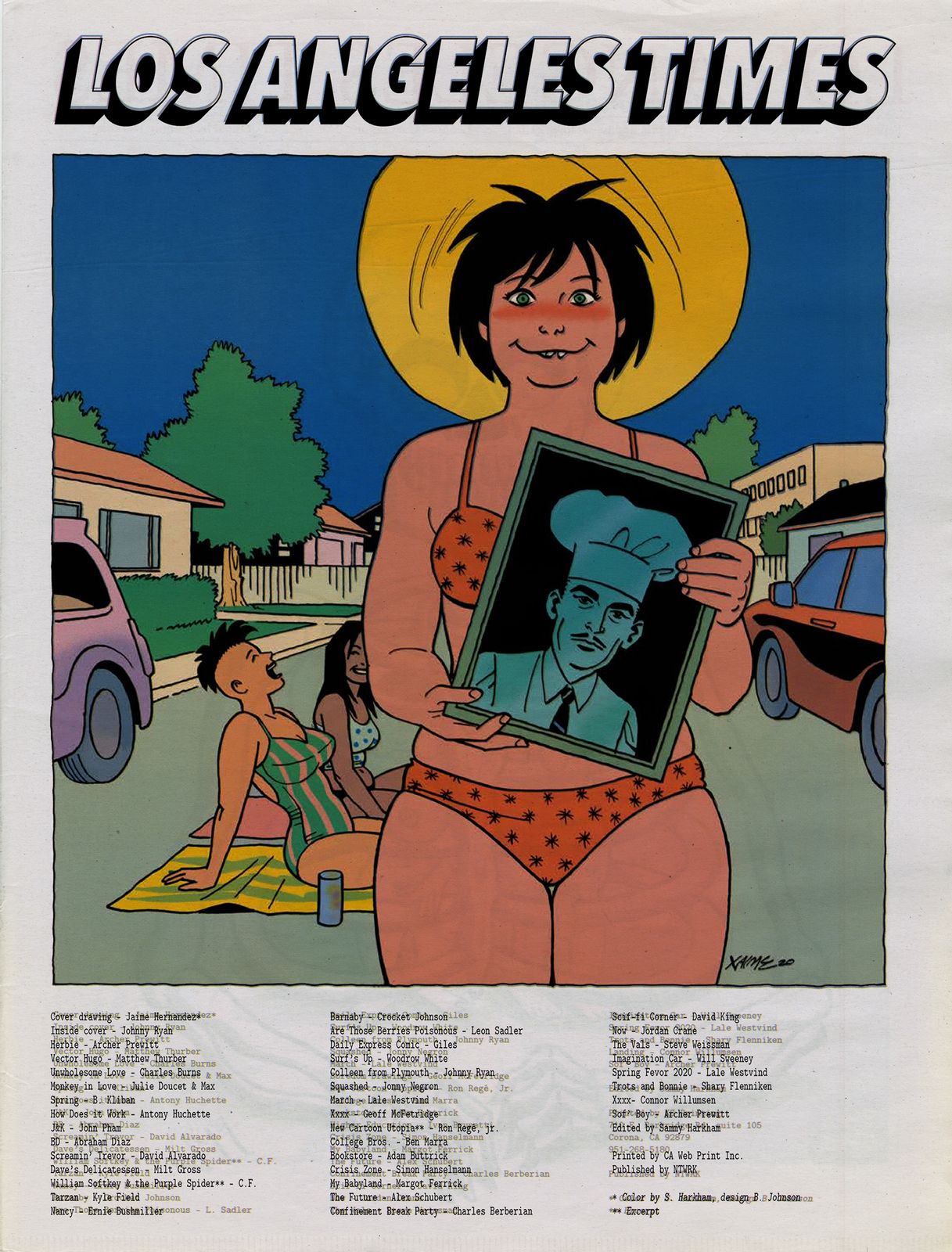 Los Angeles Times
2020
NTWRK
11 x 14.5
"The same vague impulse that led me to want to call on old friends when the acid bath began in March 2020 are the same that sparked this project-making an anthology is a way to talk to people I respect and care about through the only thing that makes sense, which is work. And it is only through work I can communicate meaningfully.
A free local comics paper, in the long tradition of free counter culture newspapers, was a long gestating idea that I kept pushing back and back, but suddenly felt especially perfect to do during the pandemic for many reasons, but this time the ads would be free since every business was in free-fall, and instead of picking up a copy at a local bookstore or coffee shop like you would in normal times, we would send them directly to people unawares, since they were stuck inside. The title would illegally co-opt the moniker of a long terrible local monolith and repurpose it for good in a gesture toward a possible future of dumb things hollowed out and remade. It would arrive as a genuine surprise for people when it appeared in their mailboxes. Half the run went out like that, directly to unsuspecting people, using various mailing lists. The other half were sent to various retailers and publishers to distribute as they saw fit-give away free, include in online orders, sell them, whatever suited them in these rough times. And then four months after that, copies were sold for charity through Braindead and NTWRK, our publishing partners along with apparel using artwork from the paper to raise money for the AHJ Network, a nonprofit that provides art programming opportunities for incarcerated youths.
I didn't want to promote this project online: share it, talk about it, contextualize it, discuss it, or anything else that gets in the way of the one to one relationship of paper and reader, nor force another reason to validate being online. The surprise aspect was conceptually baked into the cake. The internet makes the world feel small, and it is nice to be reminded that more is happening beyond the confines of our screens.
Postscript: The paper was nominated for an Eisner Award, and received a Cease & Desist instead of the 'thank you' and dozens of roses owed to us from the L.A. Times."- S.H.
Buy
← Back to Books